Halloween treat hosting and book give-away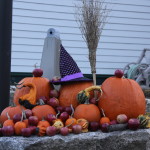 Fall is catch up time around here as well as starting to plan for next year.  But on Halloween night we just take a break to enjoy our community.
Halloween on Swan's Island is all about the kids. Islanders love to see the costumes and how much children have grown over the past year.  Even though we are a very small, year-round community some of our older people only get to "visit" with our island children on Halloween. OOHHHHs and AAHHss abound, laughs and a few "h'aint you grown deah's" fill the air as children know they will fill pillow cases and garbage bags full of goodies of all sorts.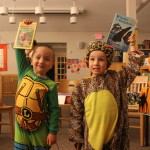 Just about 100 people visited the library – young people and adults – with close to 50 books given away throughout the evening.  Island port Press and North Country Press donated books for our Halloween book give-away.  Visit their websites and buy a book or two while you're there.
A couple of photographs are posted here and in the slide show above.  To see the full album visit our Facebook page.